Welcome to
Chuck-Taylor.Org
, your newest source for the independent superstar
Chuck Taylor
. Here we do our best to keep you up to date on
late-breaking news
and are always working on our ever growing
photogallery
, which have more than
+22.000 photos
up-to-date! Also, check out our
media section
, where you'll find icons and gifs for twitter, forums and much more. Thanks for your visit, and be sure to check back for
more news about Chuck Taylor!
Chuck Taylor
(born April 22, 1986) is an
American professional wrestler
. He most notably wrestles for Chikara, Dragon Gate USA, Evolve Wrestling, and Pro Wrestling Guerrilla. He also serves as an assistant trainer at The Wrestle Factory, operated...
Read more
Click below for both weekly and one night only ppv spoilers.
Galloway attacks Gargano after his win, but Page makes the save and takes the chair shots for his friend and former partner. Drew Gulak runs in and dropkicks Galloway. I guess it's on. Then as the match is about to begin, CHUCK TAYLOR ATTACKS DREW GULAK! HOLY CRAP! Fred Yehi and Tracy Williams run out to stop the madness. Galloway calls Chuck Taylor "Dustin." We're using shoot names now. Galloway challenges Catch Point for the Evolve tag team titles later on. Williams calls Evolve their home and asks Gulak if they want to defend it. Gulak agrees, and there we go.

Evolve Tag Team Championship: Catch Point (Drew Gulak and Tracy Williams)(champions) vs.Drew Galloway and "Dustin" Chuck Taylor

Galloway and Dustin saunter out. Catch Point save for Gulak and Williams are left in the ring. Galloway tells Riddle he doesn't need anyone, including the machine. Brawl to start as expected. Galloway goes for Future Shock but is countered. Things continue to be chaotic. Gulak and Williams double team Galloway. Referee turns his back so the rudos can take control. Williams comes in and works Taylor over with some chops and an armbar takedown. More double teaming ends with a back suplex. Williams looks super crisp during this portion of the contest. Taylor comes back with a dropkick on a Williams dive attempt. Heat segment on Williams. Williams gets into a strikefest with Galloway but he still gets cut off. Gulak and Taylor finally collide one-on-one. Series of strikes before applying the Gulock. Galloway makes the save. Snap suplex into the corner. Chinbreaker and tag to Galloway. Dropkick off the top by Williams. Butterfly superplex on Galloway into the crossface. Tombstone by Galloway. Gulak breaks that count. Gulak hits a diving lariat on Taylor. Taylor applies a Koji Clutch? Gulak eventually makes the bottom rope. Williams gets all fired up. Piledriver attempt but Galloway hits a yakuza kick. Piledriver by Williams. All four men in the ring. Gulak ankle locks Galloway. Galloway slingshots Gulak into the medal part of the ring. Never seen that before. Williams forearms Taylor. Williams dives on Galloway. Pop-up powerbomb by Taylor. A second one. Omega Driver! That's it!

Winners and New Champs
Drew Galloway and Chuck Taylor

Galloway says they broke Evolve's spirit tonight and they'll rip out the heart the next night when Galloway defeats Gargano. Galloway says Taylor, EC3, Hero, Rhodes, and himself will all be in the house. Taylor says he's been in Evolve since day one and buries Gulak for being in CZW. Taylor wants to know where his contract is. He says Chuck Taylor is now dead. Gargano will have his back broken.
Scott Hall wins the DDT Pro Ironman Heavymetalweight (24/7 Rule) Championship by pinning Chuck Taylor who pinned Joey Ryan in a triple threat match that also included Colt Cabana on June 17th, 2016 at F1rst Wrestling in Des Moines, IA.
I will get full match results up when available.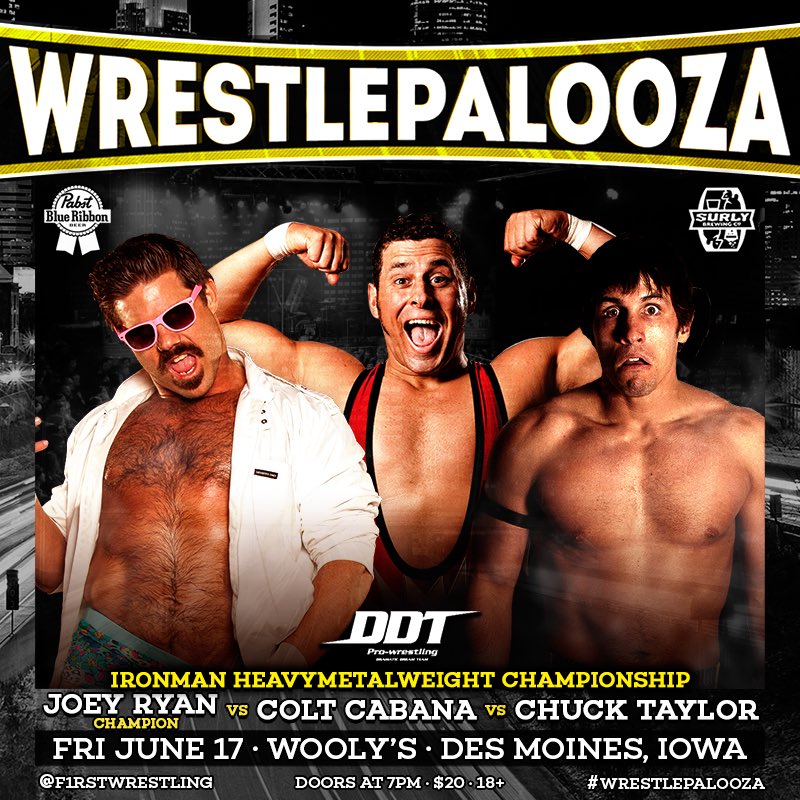 The #ddtpro Ironman Heavymetalweight Title is on the line vs. Colt Cabana & Chuck Taylor at @f1rstwrestling on 6/17! pic.twitter.com/zeX2Bvz1oD

— Joey Ryan (@JoeyRyanOnline) June 8, 2016
Related Links
Show Information >
Here
May 20th: FCP CHIKARA Aniversario Tour 2016 – Day 1 @ The Neon in Newport, Gwent, Wales
Four Way: Ophidian defeats Benny Figg (Chuck Taylor) and Heidi Lovelace and Mike Bird

May 21st: FCP CHIKARA Aniversario Tour 2016 – Day 2 @ Fixxion Warehouse in Wolverhampton, West Midlands, England, UK
Officer Warren Barksdale defeats Trent Baretta (Chuck Taylor)

May 22nd: FCP CHIKARA Aniversario Tour 2016 – Day 3 @ Bush Hall in London, England, UK
Karate Durling (Chuck Taylor) defeats Frightmare (7:00)

May 27th: CHIKARA Aniversario: Catching Fire @ Aston Uni SU in Birmingham, West Midlands, England, UK
Lucas Calhoun defeats Stewie Scrivens (Chuck Taylor) (7:00)

May 28th: CHIKARA Aniversario: The Chamber Of Secrets @ The Union MMU in Manchester, England, UK
N_R_G (Hype Rockwell & Race Jaxon) defeat The Gentleman's Club (Drew Gulak & Rich Mahogany (Chuck Taylor))

May 29th: CHIKARA Aniversario: The Two Towers @ Domain Northumbria Uni SU in Newcastle upon Tyne, England, UK
Slim Perkins (Chuck Taylor) defeats Officer Warren Barksdale (6:00)

May 30th: CHIKARA Aniversario: The Lost World @ St. Luke's Auditorium in Glasgow, Scotland, UK
Howie Dewitt (Chuck Taylor) defeats Orange Cassidy (4:00)

Remaining ticket information can be found on the site here.